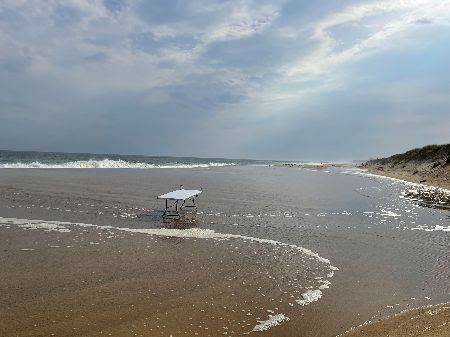 P. Mieli, Littoral, May 2021
INTERNATIONAL COLLOQUIUM OF CONVERGENCIA: LACANIAN MOVEMENT FOR THE FREUDIAN PSYCHOANALYSIS  Borders: Psychoanalysis and Displacements Friday, June 25 — Saturday, June 26, 2021 9:00 am – 2:00 pm EDT United States and Canada (UTC-4) via Zoom
Registration information to come.
The notion of border concerns psychoanalysis because it articulates the particular topological space that the subject inhabits as a result of its structural division by language: in between signifiers, between truth and knowledge, between jouissance and knowledge and between speech and letter. Among these terms is possible to establish differences, frontiers, but also littorals, displacements and passages that might be fruitful to the function of the subject. 
On the other hand, the constitution of borders as political-juridical delimitations often leads to the institution of new forms of segregation that today impact the social link. What can psychoanalysis contribute today to the question of borders? 
 
COLOQUIO INTERNACIONAL DE CONVERGENCIA MOVIMIENTO LACANIANO POR EL PSICOANALISIS FREUDIANO  Bordes: Psicoanálisis y Desplazamientos Junio 25 y 26, 2021 8:00 am – 1:00 pm CDT Mexico (UTC-5) 10:00 am – 3:00 pm ART Argentina (UTC-3)
via Zoom
La noción de borde interesa al psicoanálisis puesto que articula el espacio particular, topológico que habita el sujeto a consecuencia de su división estructural: entre un significante y otro, entre la verdad y el saber, entre el goce y el saber y entre la palabra y la letra. Entre ellos es posible establecer diferencias, fronteras, pero también deslizamientos, litorales y pasajes que pueden resultar fecundos para el sujeto.  
Por otra parte, la constitución de bordes como delimitaciones político-jurídicas a menudo conducen a instituir nuevas formas de segregación que hoy inciden en el lazo social. ¿Que aporta el Psicoanálisis hoy a la cuestión de los bordes?
 
COLÓQUIO INTERNACIONAL DE CONVERGENCIA MOVIMENTO LACANIANO PARA A PSICANÁLISE FREUDIAN  Bordas: Psicanálise e Deslocamento
25 – 26 de Junho 2021 10:00 am – 3:00 pm BRT Brazil (UTC-3) via Zoom A noção de borda concerne a psicanálise porque ela articula um espaço topológico singular, que o sujeito habita como resultado de sua divisão estrutural pela linguagem: entre significantes, entre a verdade e o saber, entre o gozo e o saber e entre a palavra e a letra. Entre eles é possível estabelecer diferenças, fronteiras, mas também deslizamentos, litorais e passagens que podem-se mostrar interessantes ao sujeito.
Por um outro lado, a constituiçao de bordas enquanto delimitações politico-jurídicas, frequentemente, conduzem à constituição de novas formas de segregação que hoje incidem no laço social Qual a contribuição da psicanálise hoje para a questão das bordas?
 
COLLOQUE INTERNATIONAL DE CONVERGENCIA MOUVEMENT LACANIEN POUR LA PSYCHANALYSE FREUDIENNE  Frontières: Psychanalyse et Déplacements Les 25 et 26 Juin 2021
3:00 pm – 8:00 pm CEST France (UTC+2)
via Zoom
La notion de frontière—et de "bord" car en anglais, comme en espagnol, ce mot signifie les deux—intéresse tout particulièrement la psychanalyse puisqu'elle articule l'espace topologique particulier qu'habite le sujet en conséquence de sa division structurelle: entre un signifiant et un autre, entre la vérité et la connaissance, entre la jouissance et la connaissance et entre la parole et la lettre. Parmi ces termes, il est possible d'établir des différences, des frontières, mais aussi des littorals, des déplacements et des passages qui peuvent être fructueux pour la fonction du sujet.
D'autre part, la constitution de frontières en tant que délimitations politico-juridiques, mène souvent à l'institution de nouvelles formes de ségrégation qui impactent aujourd'hui le lien social. Que peut contribuer la psychanalyse aujourd'hui à la question des frontières-bords?
 
GROUPS PRESENTATIONS
•
Après-Coup Psychoanalytic Association
Centre Psychanalytique de Chengdu
Escuela de Psicoanálisis Sigmund Freud-Rosario
Escuela Freudiana de Buenos Aires Centro Cultural
Grita. Grupo de Investigación e Intervención Psicoanalítica
Le Cercle Freudien
•
Associação Psicanalítica de Porto Alegre
Escuela Freudiana Montevideo
Mayéutica-Institución Psicoanalítica
Seminario Freudiano Bahía Blanca – Escuela de Psicoanálisis
TRIEB, Institución Psicoanalítica 
•
Escola Lacaniana de Psicanális de Vitória
Intersecção Psicanalítica do Brasil
Maiêutica Florianópolis-Instituição Psicanalítica
•
Círculo Psicoanalítico Freudiano
Encuentro Clínico Lacaniano. Asociación Psicoanalítica Rio de la Plata
Escuela de Psicoanálisis de Tucumán-Argentina
INDIVIDUAL PRESENTATIONS
Colégio de Psicanálise da Bahia
Escola Lacaniana de Psicanálise – RJ
Escuela Freudiana de Argentina 
Escuela Freudiana de Mar del Plata
Escuela Freud-Lacan de La Plata
Fondatio Européenne pour la Psychanalyse
Grupo de Psicoanálisis de Tucumán
Lazos Institución Psicoanalítica de La Plata
Práxis Lacaniana – Formação em Escola
Triempo, Institución Psicoanalítica
Trilce/Buenos Aires Institución del Psicoanálisis
Copyright © 2021 Après-Coup Psychoanalytic Association, All rights reserved.
 
Our mailing address is:
Après-Coup Psychoanalytic AssociationPO Box 1039
Cooper Station
New York, Ny 10003
Add us to your address book