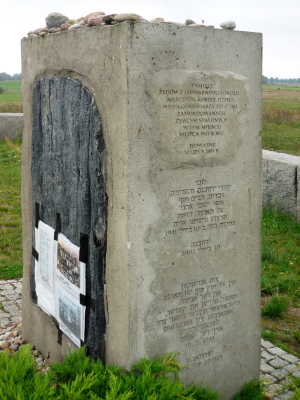 Click Here to Read: The Day We Burned Our Neighbors Alive: Polish journalist Anna Bikont faces history in Jedwabne in her masterful new 'The Crime and the Silence' By David Mikics on the Tablet website on October 20, 2018.
Click Here To Read: The Conscience of Poland: A Q&A with Adam Michnik: A conversation with the former dissident and public intellectual, about the 'Polish mentality,' anti-Semitism, and 'wearing Jewish glasses' By David Samuels December 18, 2014
Memorial in Jedwabne, dedicated to murdered Jews: In remembrance of the Jews from Jedwabne and surrounding areas, men, women, children, co-habitants of this earth, murdered, burned alive here on July 10th, 1941. Photo by Fczarnowski.