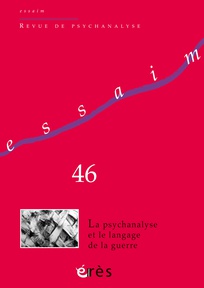 CONFERENCE
Psychoanalysis and the Language of War essaim 46 A Franco-American Presentation via Zoom Saturday, September 25, 2021
10:00 am – 12:00 pm Eastern Daylight Time (US and Canada) To register, click here.
The word "war" carries a powerful charge in several sorts of war and in several ways of making war: position war, economic war, atomic war, cold war, spreading war, war against the pandemic… Psychoanalysts and psychoanalysis are also traversed by this signifier. What are the individual consequences that wars have had for analysts in their practice? What reflections and writings associating psychoanalysis and war have issued from this?
essaim is a French psychoanalytic journal. This encounter is devoted to the presentation and the discussion of Issue 46. (For a summary of Issue 46 in English, click here).
SCHEDULE
10:00 am — Introduction, Paola Mieli (psychoanalyst, member of Après-Coup)
10:05 am — Erik Porge (psychoanalyst, Paris)
10:45 am — Per Magnus Johansson (psychoanalyst, Gothenburg, Sweden)
11:05 am — Mark Stafford (psychoanalyst, member of Après-Coup)
11:30 am — General DiscussionThis event is free and open to the public and will be conducted online via Zoom.
Copyright © 2021 Après-Coup Psychoanalytic Association, All rights reserved.
Our mailing address is:
Après-Coup Psychoanalytic AssociationPO Box 1039
Cooper Station
New York, Ny 10003