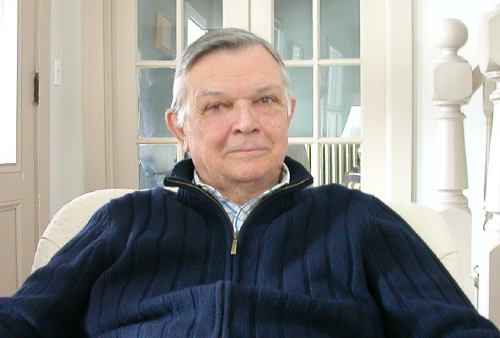 James Kraft
Just because National Poetry Month is over, dear readers, doesn't mean that we have stopped thinking and writing about poetry. It's always a pleasure to introduce a poet in this column.
Our poet today has had such a long and distinguished career as an educator, arts administrator, biographer, reviewer and editor that it's hard to believe he ever had time to write a poem. Nevertheless, he produced two fine volumes: reunion, in 1987 (New York: The Promise of Learning, Inc.) and Walker, a collaboration with artist James De Woody, privately printed in an edition of eighty numbered copies in 1992. Born in Washington, D.C., he was educated at the Canterbury School in Connecticut, Princeton University, where he received a High Honors B.A., the Shakespeare Institute in Stratford, England, and Cambridge University, King's College. From Fordham University he received his M.A. and Ph.D. in English.
To briefly enumerate the positions he has held: Visiting Professor at the Universite Laval in France; Director, Office of Special Projects for the National Endowment for the Humanities; Dean of the Adult Division at the New School for Social Research; Senior Consultant at Brakeley, John Price Jones, Inc., responsible for consultation on management and fund-raising for non-profit cultural groups; Assistant Director of the Whitney Museum of American Art; Vice-President for Development at the Manhattan School of Music; Consultant to the London Symphony Orchestra and the American Craft Museum; and, most recently, a teacher of American Literature for the Berkshire Institute for Lifetime Learning in Pittsfield, MA, the Mercantile Library and the New York Society Library in NYC; the Mount in Lenox, MA, and libraries in Scoville and Salisbury, Ct. He has also taught at Wesleyan University, Phillips Academy, Andover and the University of Virginia.
We tell you all this here, because some of you may already have met James Kraft at one of these venues.
His publications, as you might suspect, are many. In addition to numerous book reviews and critical articles, he was Assistant Editor of a 16-volume history of the U.S. for the American Heritage Publishing Co. and – in my view, his crowning achievement and the one which first drew my attention – a stunning ,five-volume biography of the late poet, translator and playwright, Witter Bynner, Who Is Witter Bynner? (University of New Mexico Press, 1995). Earlier, he was General Editor of The Works of Witter Bynner (F.S.& Giroux, 1978, 1979, 1981).
Now in his eighties, James Kraft continues to lecture to write and to acquire fans.
Below, from his two collections, are three tight, well-crafted poems by James Kraft:
             –Irene Willis
               Poetry Editor
             Anger
Caught is a word to describe it
Caught in a metal trap.
That word is not sufficient
Consider possessed.
You are held inside something
Controlled by the object
Overcome by its persistence
The image is of a dark place
Airless, tight, without sound
Where you sit motionless
You think of nothing else
You cannot escape
It is a place without end.
from reunion (The Promise of Learning, Inc., 1987)
             Words
" The essential thing is
To love well and live
So that we are loved by those important to us."
The thought is not mine, but whose?
Who has said this before –
Why does it seem so familiar, so significant?
I would not call it commonplace
Because what we know and do not understand
Accept and do not live
Is not commonplace
Obvious or expected
Easily taken in, made one's own.
We search for the moment we heard these words
This persistent thought
And we cannot remember who said it, or when.
Not even, finally, what it means to us.
It only seems familiar and significant,
Like the taste of orange.
from reunion (New York: The Promise of Learning, Inc., 1987)
                Aesop
Once ordered to prepare
A feast of the finest ingredients
He served a banquet of tongues
"For language is the instrument
We hold most delicate."
Commanded then to present a meal
of the inedible, he did the same
"For words can create the cruelest
chaos of existence."
from Walker ( Poems by Jas. Kraft, with images by Jas DeWoody, printed in an edition of eighty numbered
copies by SOLO Press)