ebruary 2020 Celebrating Women Researchers at The Menninger Clinic Did you know only 30% of researchers are women? We're proud to celebrate the growing number of women in research at The Clinic on International Women and Girls in Science Day.
For the first time in our history, the Research Department at Menninger is led by a woman. Michelle Patriquin, PhD, ABPP, assumed her leadership role in 2018. She has published more than 40 peer-reviewed papers and received numerous national awards, including the 2019 Rising Star Award from the Association for Psychological Science and the 2018 New Investigator Award from the American Society of Clinical Psychopharmacology.
Learn more about our women researchers and their contributions to psychiatric research.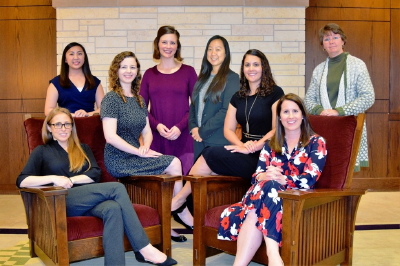 Front row, left to right: Katrina Rufino, PhD, and Michelle Patriquin, PhD,ABPP. Center row, from left: Megan Rech, BA, and Anika Blanchard, MEd, LPC. Third row, from left: Tiffany Tran, BS, Jessica Rohr, PhD, Camille Soriano, BA, and Tina Holmes.
Add Community Integration Conference to Your Calendar
Join us June 25 for The Crowning Fortune of Purpose, presented by the Association of Community Integration Programs and The Menninger Clinic.
Continuing education will be awarded for this conference, which will be held at Menninger.
Stay tuned for details in an upcoming email.
Check Out Our Latest Blog Posts: Have you been keeping up with the blog posts that we publish weekly on PsychologyToday.com?
Our bloggers continue to create informative, compelling content. Some of the latest posts are:
— Why Don't More Asian Americans Seek Mental Health Services?
— 5 Signs a Young Adult May Be Struggling
— Take Your Talk (Therapy) for a Walk