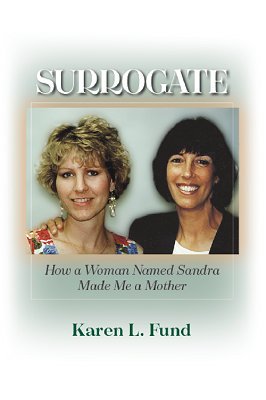 Click Here to Purchase: Surrogate: How A Woman Named Sandra Made Me A Mother By Karen L. Fund on IPBooks,net
Karen Fund's posthumously published essay, "Surrogate: How A Woman Named Sandra Made Me A Mother," tells the moving story about her pioneering experiences with surrogacy & adoption. Written in a warm and personal voice, she narrates her devastating experiences with infertility, frustrating encounters with insensitive doctors, raised and dashed expectations about being able to reproduce, and ultimately her anguish and perseverance in the pursuit of becoming a mother.
With courage and insight, humor and self-deprecation, Karen captures her quest for mother-hood. It will comfort and inform infertile couples, those considering surrogate adoption, and professional and older women who desire to be mothers. It will also be useful for mental-health professionals working with infertile patients, and anyone investigating new reproductive technologies. Karen Fund's tenacity and persistence will inspire many who have felt helpless when their quest for parenthood has been thwarted.
Enhancing Karen's original essay is a biographical portrait by her psychoanalyst husband, David James Fisher, providing context about their decision to opt for surrogacy. Also a probing conversation between Dr. Fisher and Sandra Hopkins, the surrogate mother, exploring Sandra's motivations in twice becoming a surrogate. Finally, there is a beautiful piece by Chloe B. Fisher, honestly expressing her mixed feelings about being the daughter of a surrogate.
Surrogate documents the compelling arc of Karen Fund's cumulative losses in the face of infertility until her courageous perseverance brings her to Sandra, the surrogate who enables her to become a mother. Candidly, the author shares the sorrow and heartbreak that lead to the promise and leap of faith that ultimately celebrate the bond of two women whose lives become interwoven. Powerful on its own, Karen Fund's story is augmented by her husband's sensitive viewpoint, his interview of Sandra many years later, and the remarkable perspective of the young woman who was conceived and carried with Sandra's help. Anyone who has personally encountered challenges in family building, or has been touched by someone who has, will find this riveting story to be honest and poignant. This family's multi-faceted and emotionally authentic account addresses a vacuum in the scholarly and popular literature on surrogacy.
—Linda Kanefield, PhD, psychoanalyst, Institute for Contemporary
Psychotherapy & Psychoanalysis in Washington, DC