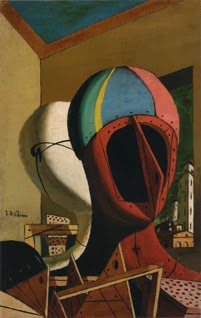 Giorgio de Chirico, Oreste e Pilade, 1966
FOUNDATIONS OF PSYCHOANALYSIS: Knowledge, Semblance, and Jouissance Lillian Ferrari and Mark Stafford
Friday, September 25, 2020 6:30 PM – 8:30 PM
Returning to a close reading of "Radiophonie" (1970) this presentation will focus on the concepts of knowledge, semblance, and jouissance.
Suggested readings: Lacan: "Radiophonie" (1970), Autres écrits; Seminar XVIII, 1970-71, D'un discours qui ne serait pas du semblant.
Lillian Ferrari is a psychoanalyst practicing in NYC. She is a Faculty as well as a member of Après-Coup Psychoanalytic Association. She has taught at Washington Square Institute, at PINC (Psychoanalytic Institute of Northern California) and lectured at the Atlanta Psychoanalytic Society. She has written numerous articles in Psychoanalysis; her most recent publication appeared in Sexualidad y los Lazos Sociales (Letra Viva, 2018).
Mark Stafford is a psychoanalyst in New York and is a member, and Formation Program alumnus, of Après-Coup Psychoanalytic Association. He contributed to Sexualidad y los lazos sociales (Letra Viva, 2018).. His most recent article, "Ours," appears in the summer 2020 issue of the psychoanalytic quarterly Division/Review.
 General fee: $20
For students with ID: $10
With 2 CE Credits
Licensed Psychoanalysts and Social Workers: $40.00
For Members, AFs, and Yearly Participants of Après-Coup: No fee
Attendance is free for all annual fee members of Après-Coup as well as for the faculty and students of the School of Visual Arts. To register, use access code during the checkout process. Need the access code? Email
apres.coup@yahoo.com
to request.
We recommend you sign into Zoom 5 minutes before the start of the workshop.