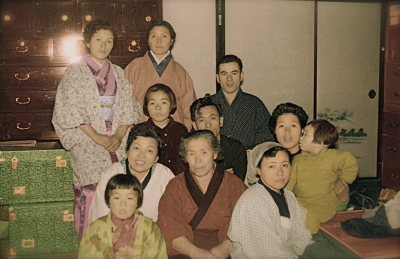 Click Here to Read: Japan's Rent-a-Family Industry: People who are short Jon relatives can hire a husband, a mother, a grandson. The resulting relationships can be more real than you'd expect By Elif Batuman in The New Yorker in the April 30, 2018 Issue.
Day before her wedding, Hideko Hosokawa (lower right with white head scarf) and her siblings prepare her belongings to her bridegrooms house.
This photograph was originally taken by Ito Monakadaneten Inc. (伊藤最中種店), a private grocery firm in Ishinomaki, Miyagi, Japan. And the photo was currently owned by Mr. Yasuhiko Ito, who is Hideko's son. Mr. Ito has asked that use of this photograph to "preserve the integrity", i.e, that it not be used in any defamatory ways. 〔This note was added by トトト upon the request of Mr. Ito.〕 21 November 1957 Source 細川家集合写真3 Photo by Yasuhiko Ito from Sendai, Japan.  Public Domain via Wikimedia Commons.