Tues, June 4, 2019 at 8PM 247 East 82nd Street, NYC General Admission: $25
Student Admission: $15 Free for NYPSI members/students Register HERE or visit nypsi.org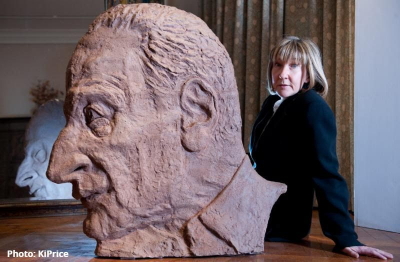 New York Psychoanalytic Society & Institute continues its popular "Conversations with…." Series and is pleased to present Dr. Lois Oppenheim in conversation with acclaimed artist Jane McAdam Freud. No CME or CE credits offered.
Jane McAdam Freud, MA (Royal College of Art) is a Fellow of the Royal British Society of Sculptors. She is represented in the major public collections in the UK and abroad,  including the British Museum and the Victoria and Albert Museum.  Her 57 solo exhibitions include retrospectives at the Wooyang Contemporary Art Museum in Gyeongju-si, South Korea and at the Freud Museum London. In 2014, along with Annie Leibovitz, McAdam Freud won the European Trebbia award for achievement in the arts.
McAdam Freud has lectured at the major London art schools, including the prestigious Royal College of Art and the University of the Arts where she is Associate Lecturer (1997 to present). She is currently 'artist in residence' at the psychiatric hospital in Genoa, a residency that will culminate in September 2019 with a two-part exhibition titled Woman as Taboo. Part 1 will be held at the Palazzo Ducale and Part 2 at the Institute of Unconscious Materials and Forms, Genoa.
McAdam Freud, who has published several papers on her work, focuses in her art on 'origins' – both personal and universal – and, in this sense, her work is conceptually informed by psychoanalytic theory.
Dr. Lois Oppenheim is University Distinguished Scholar, Professor of French, and Chair of the Department of Modern Languages and Literatures at Montclair State University where she teaches courses in both literature and applied psychoanalysis. She is Scholar Associate Member of the New York Psychoanalytic Society and Institute and Honorary Member of the William Alanson White Society.  Dr. Oppenheim has published over 100 papers and authored or edited fourteen books, the most recent being For Want of Ambiguity: Order and Chaos in Art, Psychoanalysis, and Neuroscience (co-authored with Dr. Ludovica Lumer, Bloomsbury, 2019) and Imagination from Fantasy to Delusion, awarded the 2013 Courage to Dream Prize from the American Psychoanalytic Association. Other recent books include A Curious Intimacy: Art and Neuro-Psychoanalysis and The Painted Word: Samuel Beckett's Dialogue With Art.
Lois Oppenheim, Ph.D.
Chair, Scientific Program Committee
NYPSI | 247 East 82nd Street, New York, NY 10028 | 212-879-6900 | nypsi.org