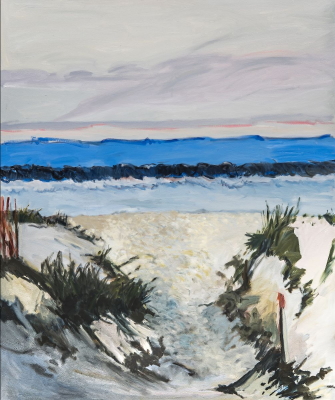 CORNELIA FOSS Recent Work August 22 – September 6, 2020 OPENING RECEPTION   Saturday, August 22, 2020 6 to 8 PM MM FINE ART 4 North Main Street, Southampton, NY 
Quintessential Hamptons artist Cornelia Foss has been painting for over half a century, as is evident by her sure hand and elegant use of color. Renowned for her fresh and personal vision, Foss's work interplays intense emotion within the formal constraints of design and painting. 
Art critic and curator Karen Wilkin wrote of Foss's work, "In Foss's straightforward, keenly observed canvases, ephemeral, unreturning, apparently inconsequential moments are distilled and endlessly prolonged. Distanced by translation into the language of paint and painting, these fleeting glimpses of places dear to the artist are magically preserved."
Foss paints what she sees, the beaches and landscapes of the Hamptons, the garden of her Long Island home. Deeply personal and full of light, her paintings invite the viewer to share in her vision. Whether a monumental canvas or a smaller watercolor sketch, her paintings are like windows beckoning us into a world of riotous flower gardens, expansive landscapes and expressive skies. Featured in numerous solo and group shows both nationally and internationally, Foss's work is featured in the collections of the Brooklyn Museum of Art, the Museum of Fine Arts Houston, the National Museum for Women, the Burchfield Penney Art Center and the National Portrait Gallery in Washington, D.C. among many other public and private collections. 
For three decades Foss has taught at the Art Students League. In 2017 she received an Arts and Letters Award in Art from the American Academy of Arts and Letters.  2015 marked the publication of Cornelia Foss: A Retrospective (Skira/Rizzoli), a follow up to her 2013 book, Cornelia Foss, Ten Years of Paintings and Drawings 2003 – 2013. Recent solo exhibitions include Cornelia Foss at Guild Hall, East Hampton, NY, 2015; Cornelia Foss, presented by MM Fine Art at Rafael Gallery, New York, NY, 2018; Gerald Peters Gallery New York, 2014 and numerous others. 
SUMMER GALLERY HOURS
Thursday – Sunday, 11am – 5pm
Or by appointment
For further information info@mmfineart.com
www.mmfineart.com
Reception will be held both indoors and outdoors in the gallery sculpture garden. A limited number of people will be allowed in the gallery at a time. Masks required.