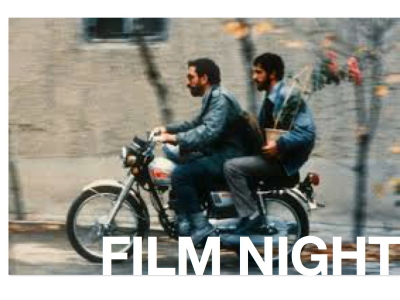 CLOSE-UP
Friday, March 1, 2019 7:00 p.m.
CE Hours available to: LCSWs, LMSWs, LPs, LMFTs, LMHCs, and LCATs
Admission with CE's: $20 Suggested Admission without CE's: $10
A discussion following the screening will be facilitated by Barbara Messer, LCSW and Melissa Capozzi, LMSW
Refreshments will be served. While reading a novel by Iranian director Mohsen Makhmalbaf on the bus, Ali Sabzian strikes up a conversation with a pretty girl, Mahrokh Ahankhah. When she tells him her family admires Makhmalbaf's work, Ali pretends to be the filmmaker to impress her.
This brilliant Persian film explores the issue of identity: identity formation, conflicts created in that formation, and ways to address these issues in therapy.
Many  consider Close-Up a masterpiece of world cinema; in 2012 it was voted by critics onto "The Top 50 Greatest Films of All Time" list.
Community Unitarian Church
468 Rosedale Ave.
White Plains, NY  10605
RSVP to Jane Bloomgarden
jwillbloom@gmail.com
CONTINUING EDUCATION – 2 CE HOURS
The Westchester Center for the Study of Psychoanalysis and Psychotherapy is recognized by NY State Education Department's State Board of Mental Health Practitioners as an approved provider of continuing education for Licensed Clinical Social Workers # 00063; Licensed Psychoanalysts # P-0027; Licensed Marriage and Family Therapists #MFT-0040; Licensed Mental Health Counselors #MHC-0075; and Licensed Creative Arts Therapists #CAT-0028.
Learning Objectives:
Participants will be able to
1) state two principles of identity formation, its evolution and its potential instability;
2) to identify two obstacles to stable identity formation in individual development from temperament, family psychodynamics, and social class; and
3) identify conflicts in therapists' ability to listen empathically to patients' life stories.
A completed evaluation must be submitted at the end of the conference.
Who should attend:  Psychiatrists, psychologists, social workers, psychoanalysts, other mental health professionals, nurses, graduate students.